'Tis the last book in the Montana Bachelor Auction series!
Yes, I'm able to do this Compete-A-Series challenge!
Let me just pat my back and indulge… Enjoy the rest of the weekend, people!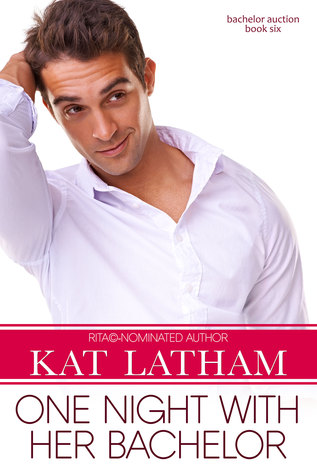 Title: One Night With Her Bachelor
(Montana Born Bachelor Auction #6)
Author: Kat Latham
ebook provided by Netgalley
Published by Tule Publishing
Molly Dekker hates being the town charity case, but when her son Josh is seriously injured she has no choice. She lets her best friend organize a bachelor auction to help pay her massive bills and make Josh's life more comfortable. She can't bid on any of the men, but a surprise bidder gives her a gift she never expected: a date with the man who saved her son's life—the only one she's in danger of losing her heart to.

Former Air Force pararescueman Gabriel Morales made a career of flying to the rescue, until a tragic helicopter crash stole more than his livelihood. Being auctioned off like a slab of beef isn't in his recovery plan. But one look, one touch and one night unlocking Molly's pent-up passion makes him realize how badly he needs to be rescued…and how badly he wants to rescue Molly right back.

Will Molly and Gabriel's never-quit attitude have them rushing head-first into love? Or will Gabriel's secret pain stall their relationship before it can get off the ground?
'Tis the last book in the Bachelor Auction Series, but this is definitely not the least. For what it's worth, I believe Tule Publishing saved the best for last. I loved every chapter of this book!
One Night With Her Bachelor finally relates the story of Molly Dekker, the single mom of young boy Josh, who was almost buried alive in an accident while on a camping activity. Josh was the main reason why Lily Taylor had set up the Bachelor Auction bidding in Montana, to gather the eligible bachelors on one night, to help out with Josh's health care and ever piling bills. Of course, the ever nice kindergarten teacher Molly doesn't want to ask for money from anyone else, so Lily, her best friend comes up with the bidding idea.
Gabriel Morales, former Air Force, a wounded warrior and a recluse, was actually the one who helped saved Josh when the young boy fell on the mine shafts on that fateful camping day. He has lived alone in his cabin and didn't like coming out at all, as his past kept haunting him. When Lily tells him that he's one of the bachelors up for the bidding, I thought he was going to refuse and decline. I was ecstatic to learn that he has finally agreed and soon came out from his solitary, shaved his beard, cut his hair and looked every bit of a gentleman.
Of all the Bachelor books I've read in this series, I think this one by Kat Latham is my favorite. I enjoyed every minute of Molly, Gabriel and Josh. Theirs is a kind of family love like no other. The emotional build-up among the characters were quite intense, heart-breaking and sweet at the same time. I am a mother myself and seeing my children hurt equals to the whole world collapsing on me, that's why I could very much relate to Molly with her passion to give everything to her child. (The only difference is I am happily married, so I have a strong support system). Molly finally finding Gabriel is such a reprieve. I really rooted for them. For me, they are perfect for each other and seeing them with their own happily ever after was enough to make me feel wonderful deep inside. I think, author Kat Latham has that effect on me with her books. So far, this is my favorite Bachelor story.
NOTE: I received this book as well as the rest of the Bachelor Auction series for free from Netgalley in exchange for an honest review. This does not affect my opinion of the book or the content of my review.
Other books in the Montana Bachelor Auction Series:
Bound to the Bachelor (Bachelor # 1) 
Bachelor at Her Bidding (Bachelor # 2)
The Bachelor's Baby (Bachelor # 3)
What A Bachelor Needs (Bachelor # 4)
In Bed With The Bachelor (Bachelor # 5)