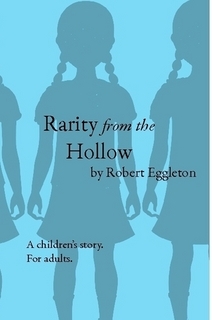 Rarity from the Hollow
by Robert Eggleton
Lacy Dawn's father relives the Gulf War, her mother's teeth are rotting out, and her best friend is murdered by the meanest daddy on Earth. Life in The Hollow isn't great. But Lacy has one advantage — she's been befriended by a semi-organic, semi-robot who works with her to cure her parents. He wants something in exchange, though. It's up to her to save the Universe.

Will Lacy Dawn's predisposition, education, and magic be enough for her to save the Universe, Earth, and, most importantly, protect her own family?
Rarity from the Hollow is adult literary science fiction filled with tragedy, comedy and satire. It is a children's story for adults, not for the prudish, faint of heart, or easily offended.
Lacy Dawn isn't your typical eleven year old kid. She has a lot of experiences under her belt, most of which aren't great. Imagine her and her toothless mom being beaten to the pulp, everyday by her Gulf War veteran father. A father who suffers from post-traumatic stress disorder and deals with it by drinking, smoking weed and torturing his family. Not a sight that would likely appeal to you, eh?
How about this? Lacy Dawn can also talk to trees, have I mentioned that? Oh and the trees converse back at her, liked it's the most normal thing they do. There's Faith the ghost, too. And then there's DotCom, an Android who's slowly growing older like Lacy. Who Lacy introduces as her boyfriend, and who tells her, she's destined to save the universe.
You see, life isn't typical where Lacy Dawn is concerned. The constant abuse, heartbreaking experiences and other children's account of maltreatment and sexual assault had struck me deep. This book is actually an eye-opener, revealing the harsh truth about Hollow and the real world, if you could see it that way. Robert Eggleton wrote a hard-hitting and amusing story that will make you realize life isn't fair and there's more to it than you'll ever know.
My Rating: