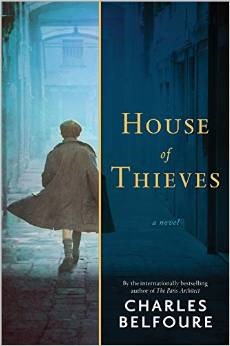 House of Thieves: A Novel
by Charles Belfoure
The Debt Must Be Repaid — or Else

In 1886 New York, a respectable architect shouldn't have any connection to the notorious gang of thieves and killers that rules the underbelly of the city. But when John Cross's son racks up an unfathomable gambling debt to Kent's Gents, Cross must pay it back himself. All he has to do is use his inside knowledge of high society mansions and museums to craft a robbery even the smartest detectives won't solve. The take better include some cash too —the bigger the payout, the faster this will be over.

With a newfound talent for sniffing out vulnerable and lucrative targets, Cross becomes invaluable to the gang. But Cross's entire life has become a balancing act, and it will only take one mistake for it all to come crashing down —and for his family to go down too.
Set in the 1880s, House of Thieves introduced us to the successful architect, John Cross and his family of misfits. Well, at first I thought they were harmless, until we get to meet his son, George who's got tangled up in a web of thugs, debts, and organized crime. In order to settle his huge debt, George revealed his father's profession and their connections. The gangsters made a deal with his father. Soon, a family living in simplicity became engrossed in pickpockets, sleight of hand and robberies until they became a bunch of thieves.
At first this book reminds me of Ocean Eleven movie and the Heist Society novel by Ally Carter. But as the story progressed, my thoughts changed and I soon found myself wondering how this family could pull off a big time heist.
I liked how this book was written. It was descriptive, thus making it easy for me to imagine and see what the characters were doing. The book also makes you think and guess and fail. It makes me say, "Oh golly, I didn't know that!" "Oh Yes!" "Oh No!" "This is great!"
Clarles Belfoure set up the pace to high-profile action-crime stories and I applaud him for keeping me interested with Cross's family until the last page of the book. Thumbs up!
Charles Belfoure is the nationally bestselling author of The Paris Architect, and the forthcoming novel, House of Thieves. An architect by profession, he graduated from the Pratt Institute and Columbia University, and he taught at Pratt as well as Goucher College in Baltimore, Maryland. His area of specialty is historic preservation, and he has published several architectural histories, one of which won a Graham Foundation national grant for architectural research. He has been a freelance writer for The Baltimore Sun and The New York Times. He lives in Maryland.
AUTHOR LINKS: