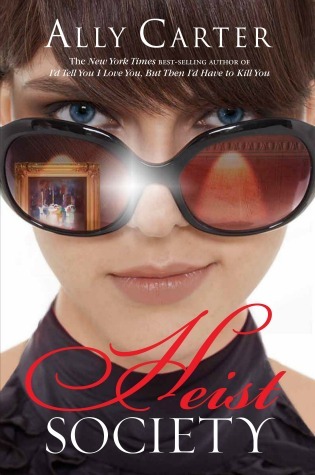 Heist Society (Heist Society #1)
by Ally Carter
When Katarina Bishop was three, her parents took her on a trip to the Louvre…to case it. For her seventh birthday, Katarina and her Uncle Eddie traveled to Austria…to steal the crown jewels. When Kat turned fifteen, she planned a con of her own—scamming her way into the best boarding school in the country, determined to leave the family business behind. Unfortunately, leaving "the life" for a normal life proves harder than she'd expected.

Soon, Kat's friend and former co-conspirator, Hale, appears out of nowhere to bring Kat back into the world she tried so hard to escape. But he has a good reason: a powerful mobster has been robbed of his priceless art collection and wants to retrieve it. Only a master thief could have pulled this job, and Kat's father isn't just on the suspect list, he is the list. Caught between Interpol and a far more deadly enemy, Kat's dad needs her help.

For Kat, there is only one solution: track down the paintings and steal them back. So what if it's a spectacularly impossible job? She's got two weeks, a teenage crew, and hopefully just enough talent to pull off the biggest heist in her family's history–and, with any luck, steal her life back along the way.

Katarina Bishop is not your ordinary teen-age girl. At her tender age of 3, she had been witness to her father's various heist adventures that made her family infamous in the field of theft. But Kat has a rule – "I don't take things that don't belong to me."
When she got tired of his family's affair, she enrolled herself in the highly reputable Colgan School and was enjoying being a normal student when after 3 months, she was accused of trashing the headmaster's car at 2am. She got expelled, of course, but she was surprised when Hale came to fetch her.
Now, imagine a younger Brad Pitt from his character in Ocean's 12, or a teenage Pierce Brosnan from Thomas Crown Affair – dashingly handsome and witty – and you'll get a picture of W.W. Hale the Fifth. Hale has been part of the Heist Society where Kat & her family belongs. Kat discovered that her father was accused of stealing valuable paintings from a mobster, Arture Taccone and it's up to Kat and Hale and their teenage gang (with newcomer gorgeous Nick!) to get everything right – including an operation of stealing 5 paintings from one of the greatest museums – The Henley Gallery.
"Ally Carter's book is about "a young woman named Katarina Bishop who hails from an extended family of cat burglars and master thieves. The girl leaves her illicit life behind, but when her father is the prime suspect behind a mobster's missing art collection, she assembles a crew to track down the art and steal it back."
I love this book! After a series of Fantasy genre, I decided to read something that is a little in-tune to reality and I was impressed with Carter's take on Heist. Although this is still for YA, which I am not, I really couldn't put the book down. I had to skip my 30 mins break just to read and finish the story. I really like Kat, she's strong-willed, knows what she likes and how to get it – even having to turn her father to the Interpol just to make sure that the mobster Taccone won't hurt him. That's how she values her family and friends.
Furthermore, I really like he way Carter gently nudged Kat's attention to Hale without making their potential love story the focus of the book. It's great to read something that doesn't involve in head-over-heels love affair. As mentioned above, it was like imagining the younger Ocean's 11 or 12 cast, only with Julia Roberts at the helm and not George Clooney or Brad Pitt.
I commend Ally Carter for starting a wonderful series. She manages to combine great action, humor, history and romance in this well plotted novel. I loved this story of teen thieves pulling the ultimate con/heist. Really well written and a fun plot.. do I really need to say this again and again?
My Rating: