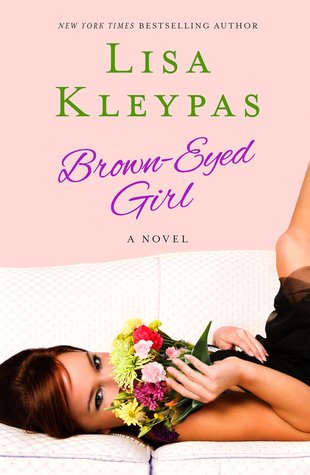 Brown-Eyed Girl
(Travis Family #4)
by Lisa Kleypas
Wedding planner Avery Crosslin may be a rising star in Houston society, but she doesn't believe in love–at least not for herself. When she meets wealthy bachelor Joe Travis and mistakes him for a wedding photographer, she has no intention of letting him sweep her off her feet. But Joe is a man who goes after what he wants, and Avery can't resist the temptation of a sexy southern charmer and a hot summer evening.

After a one night stand, however, Avery is determined to keep it from happening again. A man like Joe can only mean trouble for a woman like her, and she can't afford distractions. She's been hired to plan the wedding of the year–a make-or-break event.

But complications start piling up fast, putting the wedding in jeopardy, especially when shocking secrets of the bride come to light. And as Joe makes it clear that he's not going to give up easily, Avery is forced to confront the insecurities and beliefs that stem from a past she would do anything to forget.

The situation reaches a breaking point, and Avery faces the toughest choice of her life. Only by putting her career on the line and risking everything–including her well-guarded heart–will she find out what matters most.
Avery Crosslin is great in wedding planning. She's able to save a groom from having cold feet and whisked away a badly influential best man. Then there's the hair spray as her weapon against the evil scorpion. You'd think she'd just crush it with her high stilettos, but no, someone else did. And that's no other than Joe Travis. He was enamored by her beauty and guts and work ethics and had asked her out. Too bad, she wasn't interested in guys, not after she had been dumped by her former fiance on her own wedding a few years ago.
Tough luck, eh? Oh, you haven't even touched the surface yet. This chance meeting by Joe & Avery was the start of a whirlwind romance, conflicting family drama, a cute toothless dog, one-night stand, a possible reality TV series and a whole lot of kissing, touching, tongue explorations and ripping of clothes.
This is my kind of crazy!
I have read previous books written by Lisa Kleypas, but this is the first time I'm going to leave a review for one of her books. I think the last Kleypas book I read was Tempt Me At Twilight in 2009, and that was about 6 years ago! I regret not being able to read more of her stories after that. Now, I got this Brown Eyed Girl and that lingering feeling I often felt whenever I read a Kleypas. The feeling that left you wondering what happens next whenever you have to pause your reading. That nagging feeling that tells you to finish whatever chores or errands you're doing, in order to get back to the story. Oh yes, that's very Lisa Kleypas, indeed.
Brown Eyed Girl is definitely another hit!
*Note: I received this book from the publisher through Netgalley in exchange for an honest review.*
LISA KLEYPAS
LISA KLEYPAS is the RITA award-winning author of 21 novels. Her books are published in fourteen languages and are bestsellers all over the world. She lives in Washington State with her husband and two children.
Author Links: WEBSITE | TWITTER | FACEBOOK | GOOGLE+ | TUMBLR