TAKEN IDENTITY by Raven McAllan
ISBN: 9781784306007       Pub Date: 22nd May
Heat Rating: Burning      Book Length: Short Novel
Genre: Thrillers and Suspense, Crime and Mystery
If someone steals your identity and marries a sex god and that sex god husband shows up at your door…do you get to keep him?
Jules has no memory of marrying a sex god—and no woman is that forgetful.
So when the devastatingly handsome Gray turned up on her doorstep looking for his wife and calling said wife by Jules' name, Jules wondered briefly if she'd landed in an alternative universe. She knows she's not his wife and so does he, but apparently someone with her name and history is. Is it a case of coincidence or did his missing wife 'borrow' Jules' life?
Even though the dominant Gray sends her knickers aflame with just one look, with a missing wife in the equation, Jules knows there's no chance of finding out what else he could achieve.
There's only one thing to do—unravel the mystery and try to keep their hands off each other in the meantime. The first may well prove far easier than the latter.
This isn't the first time I read a book about taken identities and such. But this one from Raven McAllan is quite a hoot to read! Julia Frances Frayne talked a lot, so much so that she even had this habit of talking to herself, answering her own questions and even scolding herself. While I wasn't really into her habit of talking and the way she did it, I thought the story was quite pleasant and quick paced. 
When the drop-dead gorgeous Mr. Gray Reynard demanded for his wife right in front of her doorstep, Jules thought she might just be getting pranked or what. But soon they learned that there was something fishy going on, what with Jules' name being used and all.  When Gray realized his mistake and Jules' identity been stolen, they must find out the truth behind this. Both went to great lengths to find the user, and while doing so, they fell into each other's clutches. The sparks, the enigma, the undeniable attraction were all too much to take, so they let matters take their course and enjoyed the ride.
I liked the pacing of this story, it was a short and easy read, and it was quite enjoyable (a little too much if I may say so). The sexy scenes were a a bit too much to handle, too! Raven McAllan sure kept me grinning ear to ear while reading her story. Now that is quite a feat!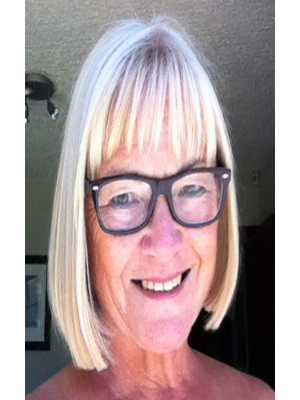 RAVEN McALLAN
A multi-published author of erotic romance, Raven lives in Scotland, along with her husband and their two cats—their children having flown the nest—surrounded by beautiful scenery, which inspires a lot of the settings in her books.
She is used to sharing her life with the occasional deer, red squirrel, and lost tourist, to say nothing of the scourge of Scotland—the midge. As once she is writing she is oblivious to everything else, her lovely long-suffering husband is learning to love the dust bunnies, work the Aga, and be on stand-by with a glass of wine.
Author Website: http://www.ravenmcallan.com/