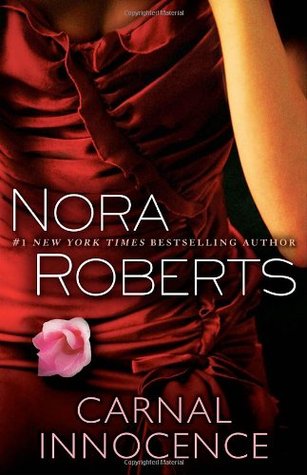 Carnal Innocence
by Nora Roberts
Paperback edition
Burned out and still reeling from a love affair gone bad, world-class violinist Caroline Waverly goes to her grandparents' home in Innocence, Mississippi, for some much-needed rest and relaxation. Instead she finds herself overwhelmed all over again—first by Tucker Longstreet, a charming local with a sideline in no-strings-attached relationships, and then by a deadlier, more disturbing development.

For Innocence is being stalked by its very own serial killer, whose brutal knife blows have pierced the veil of tranquillity in this sleepy Southern town and left a trail of mutilated female corpses in their wake. When a federal agent arrives to investigate, the town's deepest secrets bubble to the surface and suspicion turns on Tucker as the most likely suspect. After Caroline finds the latest murder victim floating in the murky waters behind her house, she too is inexorably drawn into the path of a crazed killer who may be closer than she could have ever imagined.
This paperback book was a gift from my best book buddy/BFF Anira of CLutterS, for she knows me very well, she knows that I'm a big Nora Roberts fan 🙂 Thanks girl!
What I love about Nora Roberts' books, she makes sure that the reader is easily drawn to her characters. I loved how Tucker and Carolyn seemed to bring out the best and worst out of each other. I loved the tingling suspense that this mystery brings. Sure, this paperback I read was published over two decades ago, the police procedures aren't up-to-date and not much telecommunication was spent, which makes reading it brings old memories of the past.
Tucker is infamous for his playboy ways, but there was something about him that makes him a cut above the rest. No wonder Carolyn eventually fell for him. And the mystery surrounding the killings in Innocence was a good backdrop to intensify whatever emotions these two protagonists had for each other. Another Nora Roberts classic to be put on my bookshelf.